HAO Spectral Diagnostic Package For Emitted Radiation (HAOS-DIPER)
Version 1.1 (8 Jan 2013, minor changes for IDL V8)
Reference Guide:

Adobe .pdf
HAOS-DIPER is an IDL-based database and software system for working with data from atoms and atomic ions. HAOS-DIPER grew out of a need to work with and manipulate data for neutral atoms and atomic ions to understand radiation emitted by some space plasmas, notably the solar atmosphere and stellar atmospheres. An early version was described by Judge and Meisner (1994). Since then, other packages have become available which substantively perform many of the tasks originally intended for HAOS-DIPER. These include CHIANTI (Dere et al. 1997, Landi et al. 2006, and references therein), and ADAS (Summers 2003, Badnell et al. 2003). However, HAOS-DIPER has some properties which together make it unique:
It is based upon the fast, flexible database software system written by D. Lindler for IDL, and takes some advantage of this system.
It works with quantum numbers for atomic levels, enabling it to perform tasks otherwise difficult or very tedious, including a variety of data checks, calculations based upon the atomic numbers, and searching and manipulating data based upon these quantum numbers.
In principle, HAOS-DIPER can handle conditions from LTE to coronal-like conditions, in a manner controlled by one system variable !REGIME.
There is some capability for estimating data for which no accurate parameters are available, and for accounting for the effects of missing atomic levels.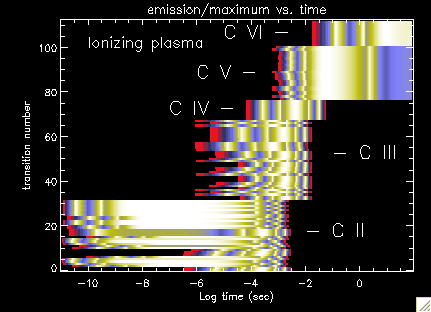 The image shows the power radiated as a function of time by emission lines of carbon, from singly ionized to hydrogen-like carbon. The initial state is one of a "cold" plasma, and the evolution of the atomic system is followed assuming sudden heating to 106 Kelvin, at an electron density of 1011 cm-3. The power radiated in the various lines evolves in response to the sudden heating, under conditions which might be relevant for a chromospheric flare. Each horizontal line represents the power emitted by each line, with a maximum of unity. Calculation made using the HAOS-DIPER procedure timeser.pro.

DOWNLOAD
-
IMPORTANT!
PLEASE READ THIS LICENSE AGREEMENT ("LICENSE") CAREFULLY. INDICATE YOUR ACCEPTANCE OF THESE TERMS BY SELECTING THE "I ACCEPT" BUTTON AT THE END OF THIS AGREEMENT. IF YOU DO NOT AGREE TO THESE TERMS, SELECT THE "I DON'T ACCEPT" BUTTON AND INSTALLATION WILL NOT CONTINUE.
HAOS-DIPER TERMS OF USE
License. Provided that you accept these terms, the University Corporation for Atmospheric Research (UCAR) grants you a non-exclusive, royalty-free license to use, create derivative works, publish, distribute, disseminate, transfer, modify, revise and copy the HAOS-DIPER Guide and related Material, in both object and source code (the "Material") for non-commercial purposes.
You shall not sell, license or transfer for a fee the Material, or any work that in any manner contains the Material.
Proprietary Rights. Title, ownership rights, and intellectual property rights in the Material shall remain in UCAR.
Disclaimer of Warranty on Material. You expressly acknowledge and agree that use of the Material is at your sole risk. The Material is provided "AS IS" and without warranty of any kind and UCAR EXPRESSLY DISCLAIMS ALL WARRANTIES AND/OR CONDITIONS OF ANY KIND, EXPRESS OR IMPLIED, INCLUDING, BUT NOT LIMITED TO, ANY WARRANTIES OR CONDITIONS OF TITLE, NON-INFRINGEMENT OF A THIRD PARTY'S INTELLECTUAL PROPERTY, MERCHANTABILITY OR SATISFACTORY QUALITY AND FITNESS FOR A PARTICULAR PURPOSE. UCAR DOES NOT WARRANT THAT THE FUNCTIONS CONTAINED IN THE MATERIAL WILL MEET YOUR REQUIREMENTS, OR THAT THE OPERATION OF THE MATERIAL WILL BE UNINTERRUPTED OR ERROR-FREE, OR THAT DEFECTS IN THE MATERIAL WILL BE CORRECTED. FURTHERMORE, UCAR DOES NOT WARRANT OR MAKE ANY REPRESENTATIONS AND YOU ASSUME ALL RISK REGARDING THE USE OR THE RESULTS OF THE USE OF THE MATERIAL OR RELATED DOCUMENTATION IN TERMS OF THEIR CORRECTNESS, ACCURACY, RELIABILITY, OR OTHERWISE. THE PARTIES EXPRESSLY DISCLAIM THAT THE UNIFORM COMPUTER INFORMATION TRANSACTIONS ACT (UCITA) APPLIES TO OR GOVERNS THIS AGREEMENT. No oral or written information or advice given by UCAR or a UCAR authorized representative shall create a warranty or in any way increase the scope of this warranty. Should the Material prove defective, you (and not UCAR or any UCAR representative) assume the cost of all necessary correction.
Limitation of Liability. UNDER NO CIRCUMSTANCES, INCLUDING NEGLIGENCE, SHALL UCAR OR ITS COLLABORATORS BE LIABLE FOR ANY DIRECT, INCIDENTAL, SPECIAL, INDIRECT OR CONSEQUENTIAL DAMAGES INCLUDING LOST REVENUE, PROFIT OR DATA, WHETHER IN AN ACTION IN CONTRACT OR TORT ARISING OUT OF OR RELATING TO THE USE OF OR INABILITY TO USE THE MATERIAL, EVEN IF UCAR HAS BEEN ADVISED OF THE POSSIBILITY OF SUCH DAMAGES.
Compliance with Law. All Material and any technical data delivered under this Agreement are subject to U.S. export control laws and may be subject to export or import regulations in other countries. You agree to comply strictly with all applicable laws and regulations in connection with use and distribution of the Material, including export control laws, and you acknowledge that you have responsibility to obtain any required license to export, re-export, or import as may be required.
No Support/Modifications. The names UCAR/NCAR, National Center for Atmospheric Research and the University Corporation for Atmospheric Research may not be used in any advertising or publicity to endorse or promote any products or commercial entity unless specific written permission is obtained from UCAR. The Material is provided without any support or maintenance, and without any obligation to provide you with modifications, improvements, enhancements, or updates of the Material.
Controlling Law and Severability. This Agreement shall be governed by the laws of the United States and the State of Colorado. If for any reason a court of competent jurisdiction finds any provision, or portion thereof, to be unenforceable, the remainder of this Agreement shall continue in full force and effect. This Agreement shall not be governed by the United Nations Convention on Contracts for the International Sale of Goods, the application of which is hereby expressly excluded.
Termination. Your rights under this Agreement will terminate automatically without notice from UCAR if you fail to comply with any term(s) of this Agreement. You may terminate this Agreement at any time by destroying the Material and any related documentation and any complete or partial copies thereof. Upon termination, all rights granted under this Agreement shall terminate. Sections 2, 3, 4, 7 and 10 shall survive termination.
Complete Agreement. This Agreement constitutes the entire agreement between the parties with respect to the use of the Material and supersedes all prior or contemporaneous understandings regarding such subject matter. No amendment to or modification of this Agreement will be binding unless in a writing and signed by UCAR.
Notices and Additional Terms. Each copy of the Material shall include a copy of this Agreement and the following notice:


"The source of this material is the High Altitude Observatory at the National Center for Atmospheric Research, a program of the University Corporation for Atmospheric Research (UCAR) pursuant to a Cooperative Agreement with the National Science Foundation; ©2007 University Corporation for Atmospheric Research. All Rights Reserved."

This notice shall be displayed on any documents, media, printouts, and visualizations or on any other electronic or tangible expressions associated with, related to or derived from the Material or associated documentation.

By clicking on the "I ACCEPT" button, you agree to be bound by the terms and conditions of this Agreement. By clicking the "I DO NOT ACCEPT" button, you will not be able to download or use the Material.