Summer Undergraduate Internship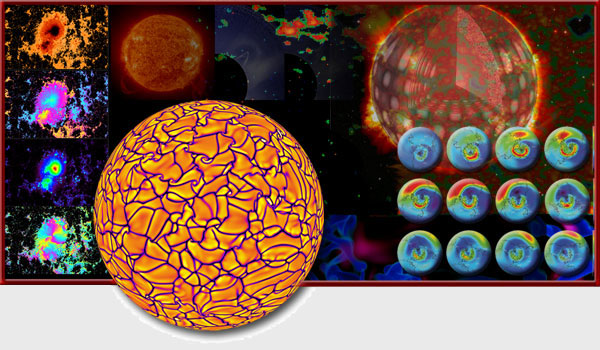 About HAO
The High Altitude Observatory (HAO) conducts research and provides community support and facilities in the following areas: Atmosphere, Ionosphere and Magnetosphere (AIM), Solar Transients and Space Weather (STSW), and Long-term Solar Variability (LSV). Each quadrant in the image above contains a picture representing science that is currently taking place in each of these research areas. Please click image for more information on the different images.
HAO is located in Boulder, Colorado, at the foot of the Rocky Mountains. HAO conducts research in the areas of the solar interior, lower solar atmosphere, corona and heliosphere, and terrestrial and planetary atmosphere, ionosphere and magnetosphere. Radiative transfer, hydrodynamics, magnetohydrodynamics, radiation hydrodynamics, and plasma physics are pursued for both their fundamental physical interests and their applications in the above areas of research. Visitors will have access to the HAO Linux/Unix computers, NCAR super computer system (link to CISL), and the HAO and NCAR libraries and data archives (link to UCAR library).
Other laboratories of NCAR conduct research into cloud physics, the development of convective storms, atmospheric chemistry, air-sea interactions, numerical modeling of global weather patterns, the earth's climate, and numerous other atmospheric phenomena. In addition, within close proximity to HAO are a variety of scientific institutions, including the National Oceanic and Atmospheric Administration, the National Institute of Standards and Technology, and the Joint Institute for Laboratory Astrophysics and the Laboratory for Atmospheric and Space Physics at the University of Colorado. Thus, students awarded an appointment will be in a position to acquaint themselves with active research in a broad range of disciplines.
Prospective Summer Projects
Students selected for the program will have an opportunity to experience the challenges and rewards of modern scientific research while engaged in carefully tailored studies under the supervision of staff members. Since only one student will be working on a given project, each can expect to receive the full benefit of individual attention.
We are excited to offer our Summer Undergraduates the expanded scientific and social opportunities enabled by our partnership with the University of Colorado Laboratory for Atmospheric and Space Physics (LASP) Research Experience for Undergraduates (REU) program. This program includes the participation of space physics institutes throughout the Boulder area. Please see the REU web page for further details. Note that the HAO Summer Undergraduate program is open to international participants.
Terms of Appointment
In general the terms of appointment and compensation for summer undergraduates is as stated in the LASP REU program. Also, certain employee benefits are available in accordance with NCAR policy.
How To Apply (Deadline: February 3, 2014)
Application opens November 4th. Please apply directly to the LASP REU program and mention your interest in HAO in your application. The summer program dates are June 8, 2014 through August 2, 2014 (8 weeks) [with some flexibility on a case-by-case basis].
Send an e-mail to Teresa Rivas or Dr. Roberto Casini for further details.